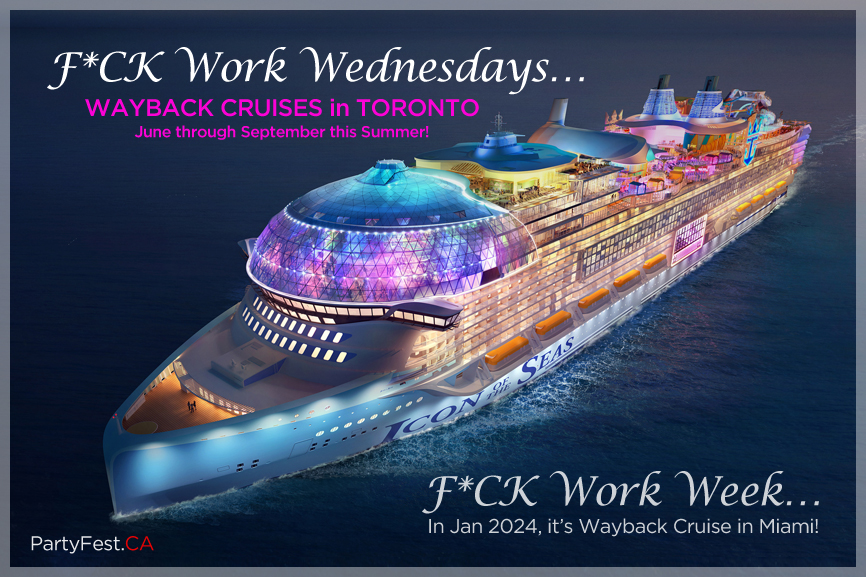 WAYBACK EURO MUSIC CRUISES
This year in Toronto - in June, July & August we present Wayback Euro Cruises aboard the gorgeous Empress of Canada! 500 FUN loving partiers on board!

Donnie Brasco says Fuhgeddabouit. F*cking forget about it, work is a Fugazi, just forget about it and Join Us - F*ck Work Wednesdays! YEAH!!

A line up of Artists, DJs and MCs such as ElissaMusic, Simone Denny, Joee de Simone, Tony Monaco, Danny D, Lil Suzy, the Cover Girls and in August quite possibly - Stevie B!
Drums by the all-time favorite of all Wayback fans - JS Stixx on all cruises.

All Wayback Euro Cruises are hosted by Ms. Euro herself – our paisan, Claudia of iLoveEuroEvents!

Line up will be live here on February 14th . If you are an entertainer who would like to join our line up please write to Claudia: iLoveEuroEvents@gmail.com

Not an entertainer but have an idea (big or small) to add to our cruises please do write to Claudia. All ideas are welcome and appreciated!

These are club-style Drinking & Dancing FUN cruises, meant for the fun-loving party goers!
We do NOT play Soca, Reggae or Bhangra.

Booths are available for guests requesting Bottle service.

For the amazing price of $45 per guest we include:
1st 75 tix is Early Bird at $25 for girls and $30 for hoodlums
A 4-hour rockin' crazee party!
A retractable roof - you will be Drinking & Dancing under the open sky
Amazing Artists, DJs and MCs!
Party Favours upon boarding – Party sunglasses, Glow necklaces & Bracelets, FWW shooter
Beach balls during dancing. Party wigs.
Door prize on EACH cruise - 2 tickets to the "F*CK Work Week" Miami Cruise 2024 Includes airfare.
Fantastic scenery of the Toronto harbour and Skyline
3-fully licensed Cash bars which offer a huge variety of liquors, liqueurs, and beer. Bar List
We accept cash, credit and debit cards at our bars.
Food is available for sale on board. Cash only.
TThis cruise sells out very quickly, reserve your tickets NOW!
Tickets must be purchased in advance online, NOT sold at the ship.
All Wednesdays: June 14, July 12, August 16th, September 13th are 6:30 pm board, 7 – 11.

Special offer:
First 480 ticket buyers for June 14 and July 12 (combined) automatically receive a complimentary ticket to our 4th and final F*CK Work Wednesday cruise on Sep 13th!
Sorry, does not apply to the August 16 th cruise.